I did a thirty minute meditation class at Hot Yoga 8 last night with Yogi Rich after Hot Power Fusion. It was completely mellow and wonderful. The first meditation was a 15 minute sit, the second one was a chakra meditation putting the moon light/ball at each chakra. It was wonderful.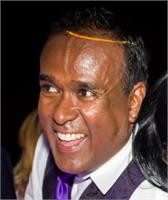 Richard Ahwah aka Yogi Rich was born in Guyana, South America, but moved to Los Angeles in the nineteen eighties. As he explore his passion, he discovered life's best secrets; Yoga and Meditation. After studying in this country for a while, he traveled to Yoga's birthplace in South of India to seek more of this yoga and meditation.
Richard's first teacher training happened in 2008 in a Bidadi Ashram, in Bangaluru, by a teacher who studied with yoga legend Krishnamacharya, along with world renowned Avatara & Guruji Paramahamsa Nithyananda. On returned to Los Angeles, Richard continued his Yoga education with Loyola Marymount University in Yoga Therapy Certification Level 2, in 2013 and continues his education with some of the best teachers in the business.
Yogi Rich is a gifted teacher, who teaches the most effective ways to discover the best in yourself. He reaches beyond the noise and chaos of the mind and help individuals discover, and heal the core issues that block deeper experiences of love and happiness within. This process can help restores energy flow to every area of your life.
These are watercolor paintings I did at LACMA